Taken from far away or by way of the gentle touch of the 'Gaussian Blur' Photoshop filter, anyone can look good in a Facebook profile pic. That's where Pascal first spotted Will and I have to hand it to him… he chose wisely.

He managed to get this hunk into the studio for an audition at Maskurbate where we get to see everything 22 year-old straight stud has to show off below the neck — like those 15-inch biceps and flawless smooth torso.
This isn't one of those alleged first times where the clothes come off so fast, you're tempted to think the model can't wait to get home to count the dollar bills stuffed into his briefs at the strip club the night before. There's a touch a palpable nervousness as he speaks and moves. As his clothes slowly come off, the view goes from "Yeah, OK" to, "Don't wrap it up, I'll eat it right here."
His body is sculpted, the smoothness is unblemished and yes, that bulge is beckoning. When his briefs go down and that dick goes up, nine inches of uncut splendor come into view, topped by a clippered bush finished with a sweet set of full balls. But not for long. Neither his, nor yours.
[Maskurbate: Will's Audition ]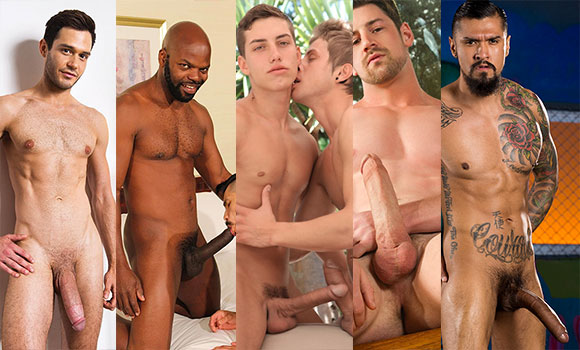 It's time to bring you an updated list of the 14 biggest and most beautiful cocks currently plowing holes in gay porn. One of the biggest and hottest in the business, Tommy Defendi's cock, is now relegated to retirement, and since this list was last done on The Sword, a number of those beautiful cocks […]
It's the really big opener to 'Clusterfuck 2' and Raging Hot Falcon hauled out the big guns. Which big guns? What do they do? Let me put it like this: Boomer and Rocco, fucking for all to see, s-n-o-w-b-a-l-l-i-n-g.
After almost three and half years away, Brodie returned to Sean Cody last week. With a little less hair above and below the equator and a bit more around the middle, fans were glad to have him back. His more manly body now is actually a lot like where Lee Tyler was almost as long […]