Daniel does things to Graham you've never seen before. And today, the Sean Cody crew makes sure we see every one of them.
From cum loogies to a single cum shot that soaked every inch of Shaw's hairy chest, the only thing you know for sure about Daniel is that he's going to do it big, and he's going to get raunchy.
Just like when Graham was with Jess – aka the human cum fountain — he couldn't wait to get things started. He couldn't have possibly known what he was in for today.
Daniel will almost always do the unexpected. That brings a unique edge to his scenes. Granted, he can be a little "Game Show Host" when he's talking to the camera. But his sexual intensity and imagination are always a sight worth seeing. Today, Graham brought out the best of both of those in Daniel. And Daniel made Graham one happy bottom in this five shot cocktail.
Between the sun, the clouds, and the reflection from the water, filming on the Ocean is difficult. Unlike Joey & Randy from Thursday, we've got the "good cameraman" back today with all of his skills. Props to him and Sean Cody for righting that wrong and then some.
Covertly filmed but with the boat out in full view, opening chit chat leads to a fast, furtive fuck that makes Graham explode with his first load and makes Daniel even hungrier for his.
Back in the living room, a quick suck to hard doggie. The Graham gives Daniel an ATM, a fast rim and onto missionary. Daniel fucks Graham's second load out of him and clamps his mouth down on Graham's cock for the stragglers. Then he starts working his way up catching Graham's load with his tongue.
Cum loogie time? Nope. Daniel spits the load out on Graham's forehead. Smears it all over his face, cleans his fingers off inside Graham's mouth … and with the jizz still trailing from his beard, finally deposits the rest of Graham's load into his mouth.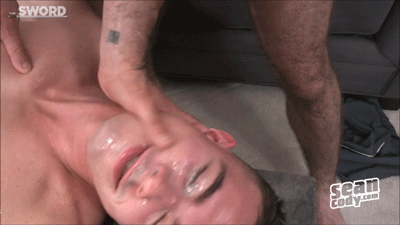 Graham's cock is still hard as Daniel flips him round, has Graham suck his dick then he floods Graham's face. He wipes his load all over Graham, licks up the residual spooge and feeds Graham for the second time. Only Daniel could have thought that up. And with Graham, he executed it too.
Round two is upstairs and begins with Graham rock hard and Daniel priming his hole. Daniel flips him over, slams him down and impales his dick for a long hard ride.
Now with Graham upside down, the pile-driving fuck Daniel administers causes Graham's third load du jour to shoot directly into his own mouth and waiting tongue. Daniel keeps on going till he drenches Graham's now gaping hole with his second load for a total of five. What a handful that Daniel is, eh?
[Watch "Graham & Daniel: Bareback" at Sean Cody]