They want in. But are Griffin Barrows, Rod Peterson, & Connor Patricks willing to go far enough to prove themselves to Trenton Ducati and Ryan Rose?
Griffin, Rod, and Connor have learned something in their encounters with members from the "Urban Spokes" messenger service.
The best part of being a member isn't the pay for their daily drop-offs to their clients, it's the deliveries they make at night to each other.
It's been a busy week of recruitment for "Urban Spokes". Rod had Ryan fill out his application with his dick. Griffin got a private referral from Brent Corrigan. Connor got an insider tip — and the big shaft — from JJ Knight. Now they're here for initiation by club leaders Trenton Ducati and Ryan Rose. Whoever performs best gets the prized membership chip.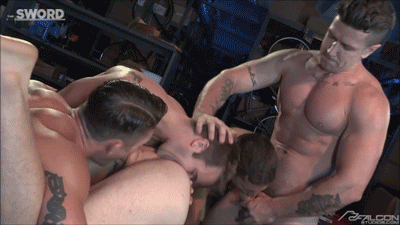 The deft hand of director Tony Dimarco makes for not just another "gay porn orgy." Today has the kind of sexual choreography of five men who are engaged and connecting with each — and as a group — at the same time. All the time. No one is scenery. No one is left out. Including us.
In rotating, side-by-side pairings of twos and threes, tag teams orally service the initiates' holes and the cocks' of the leaders.
Of course, Trenton and Ryan have plenty of dick to go around. They are not about their versatility today. They are about the holes of Griffin, Rod, and Connor.
Connor is the first to cum, shooting across Griffin's torso then Rod busts on Griffin's pecs. Ryan sets his sight on lets Griffin's lips and douses them while Griffin dumps his load onto his stomach with Trenton still inside him. Trenton strokes out his nut and throws the chip in the middle of the four loads covering Griffin. In other words, "welcome to the fucking club!"
[Watch Griffin, Connor, Rod, Ryan & Trenton in "Urban Spokes" scene four]