Even amongst the BelAmi jizz fountains, Adam Archuleta is one super shooter. But today, Raphael Nyon out blasts the master blaster.
Raphael Nyon quickly carved out a spot at BelAmi as one who likes to take control of the situation.
Last time we saw him, Roald Ekberg was up for anything Raphael wanted to do.
And he wanted to do it all.
And today, as tables are turned, Raphael turns into a bona fide cum factory.
We took a look at the preview of "Summer Break" exactly one week ago. And even though BelAmi is pushing this as a showcase for the very deserving Hoyt Kogan, Raphael Nyon is already a breakout star of the new series. At first, Adam Archuleta thought he was too busy to bed Raphael. But once they got acquainted, it turned into a passionate bout of unhurried and very attentive love making.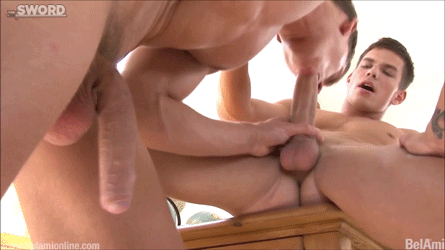 This, guys, is the proper way to greet the summer.
So perfect, it almost hurts.
And once he finally lets it rip, Raphael's cumshot makes this blast from Adam seem like a sneeze by comparison. Watch.
[Watch Adam & Raphael in "Summer Break: Adam & Raphael" at BelAmi]