Sucking dick may seem like a really basic task to accomplish on a gay porn scene, but apparently fitting a cock in your mouth is a much more drawn-out and complicated process for performers like Reno Gold. The popular content creator started publishing content to his very own porn site, RenoGold.com, all the way back in October 2021, but is only now in February 2022 releasing his "first-ever" blowjob video for the site.
Titled Eating Bubble Butt / My First BJ with Matt Lucious, the scene is set to be officially released on Tuesday and as the title suggests, will see Reno teaming up with Matt Lucious for an oral hookup. Based on the footage we've seen, fans will get the chance to watch Reno chow down on Matt's absolutely massive bubble butt and even take a go at slobbing all over his stiff knob.
"My fans are always asking for a blowjob, and I'm so excited to bring my first blowjob and rimming video to RenoGold.com, this Tuesday! Shooting with Matt Lucious has been a fantasy of mine forever, and I'm so excited to share it with everyone!" said Reno in a statement regarding what his studio is labeling his "first-ever blowjob scene."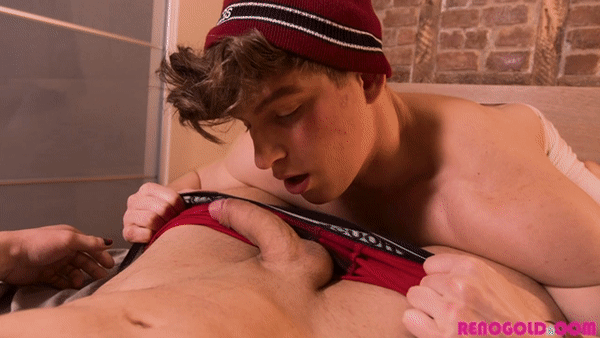 If you're interested in seeing more cock sucking videos from Reno, who usually just releases solo scenes that sometimes feature him sucking his own dick, the star writes in the official description for this new video that sucking dick might be his newfound "passion." So here's hoping he means it, follows through, and gives fans some more opportunities to see his blowjob skills in the near future!
So what do you think of this new oral scene? Will you be tuning in when it drops tomorrow? Which porn star cock do you want to see Reno take on? Sound off in the comments below and be sure to watch this full scene when it drops tomorrow over at RenoGold.com!
[Watch Eating Bubble Butt / My First BJ with Matt Lucious]