It's been a busy year for adult performers behind bars. Following Steven Daigle's arrest last night, isn't it time to catch up on all the other porn stars who have found themselves in handcuffs (not counting their fetish movies) in 2010? Yes, it is time.
Here are all the porn stars in jail-related stories that The Sword has reported on or broken this year. If I missed any, be sure to let me know in the comments, you guys.
Performer: Robert Van Damme
Charge: Domestic violence. Van Damme allegedly had a violent altercation with his wife, Bianca, in their Orange County home last May. He spent nearly two months in jail while awaiting trial.
Status: Out of jail, charges dropped, and started his own new porn company.
Performer: Jeremy Bilding
Charge: DUI. Bilding was arrested in June for driving under the influence, spent the night in a San Diego jail, and later publicly apologized on his blog for driving drunk.
Status: Out of jail, on probation, and about to appear in Naked Sword's new original series, Golden Gate.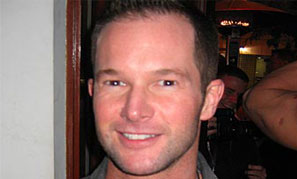 Performer: Tag Adams
Charge: Attempting to coerce or entice a minor through means of interstate and/or foreign commerce. In his series of letters from jail, Adams maintains that he was set up by federal officials.
Status: In a Washington D.C. jail, awaiting trial.
Performer: Damon Audigier
Charge: Arrested in connection to the murder of an 18-year-old Oklahoma man. At the time of his arrest in March, Audigier's actual involvement in the fatal stabbing was unclear.
Status: Out of jail and cleared of any wrong doing; still a porn star and also a cosmetologist/drag queen, according to his Twitter.
Performer: Patrick Bateman
Charges: Sexual battery and sexual intercourse with a minor. Bateman's arrest was in 2009, but I wasn't able to track down his arrest report until March. Comments that Bateman's crimes were years ago–when he was 18 and his girlfriend was three months younger than him–and that he was only jailed for missing a meeting with his probation officer have popped up here and elsewhere.
Status: Released from jail this past summer and back on Rentboy!
Performer: Aden Jaric
Charges: Assault, Harassment. Aden was accused of beating his husband Jordan Jaric with a glass paperweight, in the face, following a drunken drag show in Portland, Oregon. A war of words erupted between the two, Jordan stopped doing porn, and they've both started seeing other people.
Status: Out of jail, charges dropped, still a Falcon exclusive.