Alex and Bruce are hot individually. Putting them together turns it up to hot AF. At least, it should. And today, it finally is.
In July of 2015, Alex Mecum and Bruce Beckham were paired together for Men.com. Not only did they have Bruce keep his clothes on, the "no homo" str8 guy shtick claimed another casuality with no kissing and no intimacy.
In the finale from "Beards" from TitanMen, not only does director Jasun Mark right that wrong, he does one better: it's a flip fuck that comes from passion and mutual desire – not a storyline.
Actually, there is a storyline here. But it's based in reality. Both Alex and Bruce are hung, hairy, and versatile men who like their men the same way. Bruce tends to be more of a top. Alex tends to be more of a bottom. But after being throttled that first time they worked together, today they wanted everything the other had to offer. Considering the men in question, what they have to offer is considerable.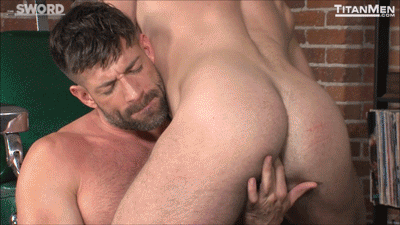 The scene begins in the barber chair vacated by Mitch Vaughn and Adam Ramzi last time. But even quicker today, the two men lose the trimmers, lose their clothes, and get right into it. Amen. The real story today has nothing to do with a barber pole. It's the chronicle of two hot men down to complete some unfinished business.
After seeing those handsome faces mixing it up on mouthwatering holes and big, beautiful dicks, it's a wonder they didn't go right to the fucking. But the destination makes every frame of the journey worthwhile. This may be one of Alex's strongest performances as a top. Both his heart — and hard — were in it — and soon buried deep inside Bruce.
They flip and now Bruce is buried inside Alex. Inside, banging, and reaching around until Alex explodes all over the floor. Without missing a beat, they flip again and this time Alex fucks a big load right out of Bruce before adding his second nut to top the top off. And what's the best way to seal the deal forever? With a lip-smacking snoball between friends, of course.
[Watch Alex Mecum & Bruce Beckham in "Beards" scene four]