Falcon | NakedSword exclusive Beau Butler and Falcon were among the big winners of the 2023 Fleshbot Awards, which were announced this week. Beau was part of three wins, while Jayden Marcos and Derek Kage also took home top honors. Check out all of the winners below…who are your favorites?

BEST NEW STAR
Dom Llamas

Derek Kage

– WINNER!

Braxton Cruz
Drake Von
Conrad Parker
Tony Genius
Eddie Patrick
Ryder Owens
GAY PERFORMER OF THE YEAR
Dillon Diaz
Derek Kage
Beau Butler
Roman Todd
Trevor Harris

Jayden Marcos – WINNER!

Andre Donovan
Jordan Starr
BEST SCENE
"Mario Galeno fucks Justin Jett" featuring Mario Galeno and Justin Jett (Tim Tales)
"Hot Daddies 4 Scene 3" featuring Killian Knox and Dylan Hayes (Icon Male)
"Royally Fucked Part 1" featuring Sir Peter and Justin Jett (Men)
"Marriage Material" featuring Calvin Banks and Jayden Marcos (Disruptive Films)
"Welcome To The Neighborhood" featuring Trevor Harris, Blain O'Connor, and Ryder Owens (Next Door Studios)
"Reality Porn #9" featuring Justin Jett and John Rodriguez (Kristen Bjorn)
"Well Bred Scene 1" featuring Lobo Carreira, Justin Jett, and Alex Ink (Raging Stallion)

"Cum Meat My Cowboy" featuring Calvin Banks, Colby Chambers, and Drake Von (Colby Knox)

– WINNER!
BEST ORAL SCENE
"Apprentice Tate | Chapter 2 The Interview" featuring Apprentice Tate and Master Snow (Masonic Boys)
"That Summer" featuring Carter Woods and Ryder Owens (Next Door Films)
"Door's Unlocked" featuring Nico Coopa and Ryder Owens (Next Door Raw)

"The Professor, Tape 5: Meeting the Assistant" featuring Noah White, Adam Snow, and Cole Blue (Gaycest)

– WINNER!

"Happy Endings" featuring Tristan Hunter, Cody Seiya, Trevor Brooks, Greyson Myles, Daniel Evans, Lane Colton, and Shea Reynolds (CockyBoys)
"Marcel & Bobby" featuring Marcel Eugene and Bobby Day (Cutler's Den)
"Beaux Are Hoes Part 2" featuring Leo Louis and Leo Bacchus (Men)
"Make It Last" featuring Vincent O'Reilly and Sonny Blonde (HotHouse)
BEST FLIP-FUCK
"The End" featuring Nico Coopa and Tony Genius (Disruptive Films)

"Door's Unlocked" featuring Nico Coopa and Ryder Owens (Next Door Raw)

– WINNER!

"Stiff In The Cock" featuring Damian Night and Troye Dean (Men)
"Summer Flings" featuring Oliver Marks and Devin Franco (Falcon Studios)
"Take A Break" featuring Kyle Flecther and Jordan Starr (Next Door Originals)
"The Walking Dad" featuring Dakota Lovell and Lawson James (SayUncle)
"Give and Take" featuring Derek Kage and Ethan Sinns (Raging Stallion)
"Break Time" featuring Joel Someone and Alpha Wolfe (Trailer Trash Boys)
BEST GROUP SEX SCENE
"Kosta Viking Gets Gang Banged" featuring Dom King, Harold Lopez, Jacob Lord, Kosta Viking, Manuel Skye, Rudy Gram, and Viktor (Lucas Entertainment)
"Smash" featuring Cutler X, Drew Sebastian, and Teddy Bryce (Cutlers Den)
"Southwest College Boys Group Fuck" featuring Colby Chambers, Mickey Knox, Oliver Marks, and Carter Collins (Colby Knox)

"Beau's First Gangbang" featuring Gael, Rhyheim Shabazz, Alex Rosso, Blessed Boy, Andy Rodrigues, Gabriel Coimbra, Grande Simoes, Marcelo Caiazzo, Markin Wolf, Samuel Hodecker, and Beau Butler (NakedSword x Rhyheim)

– WINNER!

"DeAngelo + Devin + Jkab" featuring DeAngelo Jackson, Devin Franco, and Jkab Ethan Dale (Rod's Room)
"Double Feature" featuring Brian Bonds, Tucker Barrett, Marcus Rivers, and Myott Hunter (GayCest)
"Full Holes" featuring Jack Waters, Nick Floyd, Xtian Mingle, and Jordi Massive (SayUncle)
"Professor's Choice" featuring Dillon Diaz, Asher Day, and Tony Genius (Noir Male)
MOVIE OF THE YEAR
"Sweat. Fuck. Repeat." featuring Andre Donovan, Caden (Sean Cody), Colby Melvin, Drew Valentino, Jarrod James, Lawson James, Luca del Rey, Sean Xavier, Zod Blakk (Raging Stallion)
"Deangelo" featuring DeAngelo Jackson, Dillon Diaz, Koji Xander, Leo Luckett, and Zak Bishop (Noir Male)
"Royally Fucked" featuring Dean Young, Joey Mills, Justin Jett, Kyle Fox, and Sir Peter (Men)
"Friends in Heat: Season One" featuring Aaron Trainer, Brian Bonds, Jake Waters, Justin Yurmouth, and Matteo Nevaeh (Luxxxe Studios)
"Dis-Connecting" featuring Andy Onassis, Jackson Radiz, Justin Jett, Ken Summers, and Tyler Berg (Gay Angel Films)
"When Push Comes to Shove" featuring Ben Rush, Derek Kage, Devin Franco, Matt Wolf, and Ryan Brian (Club Inferno)
"Changes" featuring Andrew Miller, Derek Kage, Des Irez, Jayden Marcos, Kane Fox, Kyle (Sean Cody), and Tony Genius (Next Door Studios)

"Cheat Day" Alexander Muller, Beau Butler, Brock Brodie, Cade Maddox, Chris White, Kane Fox, Sean Xavier, Trevor Brooks, and Tristan Hunter (Falcon Studios)

– WINNER!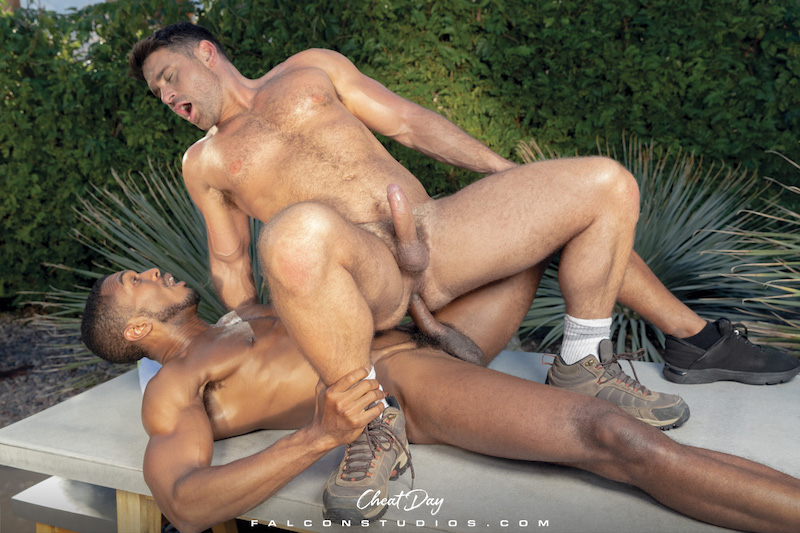 BEST ASS
Reese Rideout
DeAngelo Jackson
Beau Butler – WINNER!
Tony Genius
Roman Todd
Derek Kage
Blain O' Connor
Michael Boston
BEST COCK
Roman Todd
Reese Rideout
Drake Von
Trevor Harris

Rhyheim Shabazz

– WINNER!

Cade Maddox
Andre Donovan
Jayden Marcos
BEST TWINK
Trevor Harris
Ryder Owens

Drake Von

– WINNER!

Dean Young
Noah White
Aaron Elias
Nick Floyd
Max Lorde
BEST BEAR
SantanaXXL – WINNER!
Micah Martinez
RR Bears
Daddy Will Angell
Felix Camp
Jarren Shan
Santi Del Rio
Jason Collins
BEST DADDY
Reese Rideout
Dale Savage
Christian Wilde
Micah Martinez
Adam Killian

Sir Peter

– WINNER!

Sharok
Ryan Carter
DIRECTOR OF THE YEAR
Ben Rush
Marc MacNamara
Conrad Parker
Jeremy Babcock
Micah Martinez
Rhyheim Shabazz

Legrand Wolf – WINNER!

Big Mike
BEST CONTENT CREATOR
SantanaXXL
Reese Rideout
Teddy Bear
Dom Llamas
Beau Butler
Rhyheim Shabazz and Elijah Zayne
Conrad Parker

MrDeepVoice

– WINNER!
CAM MODEL OF THE YEAR
The CC Boys – WINNER!
Trevor Harris
Ryan Landers
Johnny Stone
Alejandro Castiblanco
Mickey Knox
Darin Jones
Jason Stromm
BEST GO-GO
Tony Salas
Johnny Moon
Benvi
Dale Savage
Diego Barros – WINNER!
Finn August
Jayden Jaxx
King Dwarf
CYBERSOCKET LEGACY AWARD
Mr. Pam
Walden Woods

Reese Rideout – WINNER!

Brian Bonds
Dominic Pacifico
Jimmy Durano
Steve Cruz