[Updated below.]
The West Hollywood Sheriff has confimed to The Sword that Steven Daigle (seen left in a photo from last night) was arrested and taken into custody following an incident that left a bloody mess on the streets of WeHo (see pic below).
It was supposed to be a happy night for Daigle, as he and friends had gathered earlier to watch his appearance on the Real Housewives Of Atlanta. According to a source, however, things turned ugly when Daigle's rumored boyfriend (though now I presume he's an ex-boyfriend?) and fellow porn star Trent Locke approached Daigle at The Abbey and instigated a fight. My source also tells me that Locke's "head was cut open," and that Daigle was quickly taken away by the police. Locke was not arrested.
As of this posting, Daigle was being treated at a local hospital for minor injuries, after which he'll return to the West Hollywood station for processing.
Developing….
Update:
Daigle was formally booked after 2 a.m. this morning and remains in custody on $20,000 bail. His arraignment is scheduled for tomorrow. Locke, meanwhile, is in ICU for observation. (He's since deleted that linked tweet, but in it Locke wrote, "This ICU smells like puss and 409. Only one day left of observation.")
Taken last night outside The Abbey (via Twitpic).
Daigle and Locke, during happier times.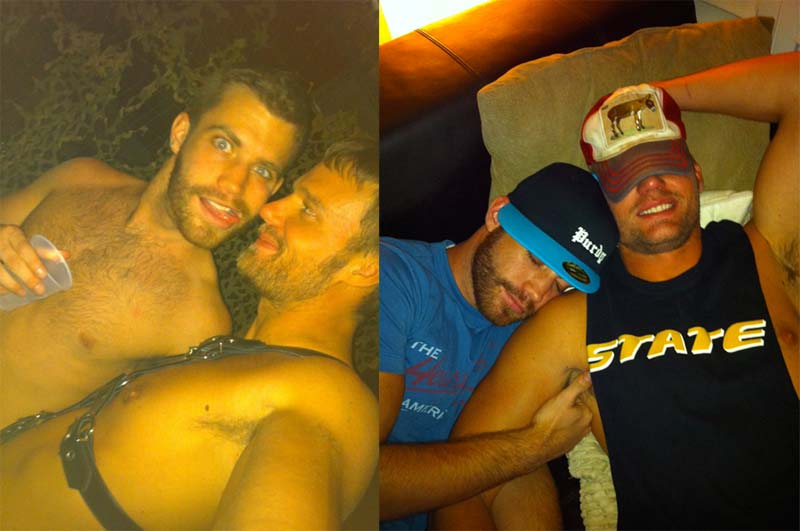 More:
—Before The Bloodshed: Steven Daigle And Trent Locke Party With Big Blond Tranny
—Trent Locke On Steven Daigle: My Heart Goes Out To Him
—Your 2010 Round-Up Of Gay Porn Stars Caughts Breakin' The Law
—Steven Daigle's Mugshot Has Arrived!