The you's with the sweet tooth are Wes Campbell, Sean Ford, Joey Mills, and Corbin Colby as Blake Mitchell leads this five-way that turns Helix into a bakery and likely you into a mess.
I've said it before and thank you, Helix, for keeping me honest. Orgies are tough to pull off. And then there's Helix. They pull them off time and after time. And today in "Breathe", they out did themselves. "Breathe" is more than just a title. It's a reminder of what you need to keep doing while you watch this.
Corbin Colby, Sean Ford, Blake Mitchell, Wes Campbell, and Joey Mills.
Now that's an all-star lineup of what Helix calls "Five spellbindingly beautiful boys." Despite already getting his cork popped, Blake is the one who doesn't get fucked today. He does, however, lead this fuck train which makes a stop inside Corbin as Blake takes his Helix cherry.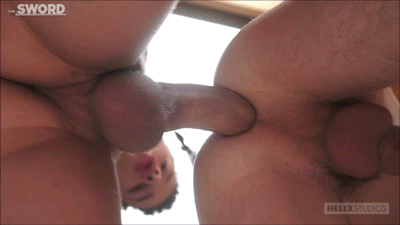 Even with so many poles and holes, we see everything.
Especially Blake's big raw dick in Corbin's golden glutes.
"They taste every forbidden desire AND one another – all natural, organic and RAW, winding up in an orgasmic puddle of absolute lust." In other words, Helix, party of five; your creampies are ready. And they cum out of the oven one right after another.
[Watch Blake, Wes, Sean, Joey, and Corbin in "Breathe" at Helix]