We don't see Landon very often. Gideon is new and this is his first hardcore scene. That combination doesn't sound bad on paper. But this isn't a library.
On a positive note, today is not another case of rearranging the same old faces. Landon is ripped, handsome, hung, and hot. And diversity is always welcome. This is only his third scene so far this year.
Then there's Gideon who brought Barney the Purple Dildo to his get to know me fap. It's not the sex toy that didn't belong on Sean Cody. It's who brought it.
Two of these three must be outstanding to make it in gay porn: face, body, and cock. The old Sean Cody baseline was at least two and a half had to be top notch. Gideon doesn't come anywhere close. And it's worse on video. But he is new. However, if Sean Cody was that desperate to bring back a fresh face, they could have at least gotten him a decent haircut. In a utopian society, they would have waited for him to hit the gym for a month or so. Especially when putting him next to chiseled Landon.
We begin with some splish splash. Gideon acts like he won the man lottery. Landon is charming as ever. But it also as is if he just sat down for a meal and his lunch mate ordered him something he didn't really want. He puts on his game face and pretends to enjoy it. But is glad when it's over. Five minutes of this 23-minute scene are the interview and BTS.
In the opening hummer, Landon's dick is mouth-wateringly big and Gideon makes a meal out of it. But as you watch it, you find yourself wishing almost anyone else was doing the sucking. We then move to reverse cowboy on the bed. That requires stamina, strength, and practice to be effective. Not a smart directorial choice for anyone's inaugural fuck position. And they stay there way too long.
Landon flips Gideon over and we're onto missionary. A little shy of pole in hole footage, but it works comparatively better. Gideon jacks out his first load on his abs. But when Landon pulls out, you can see he wasn't really hard. Gideon is all cleaned up by the time Landon shoots his load. Kiss and cut.
Round two begins with a standing hummer which once again, shows off the beauty of Landon's cock. We then move to standing doggie. Choppy edits fill the time but the brief undercarriage shot is really the only filling we see.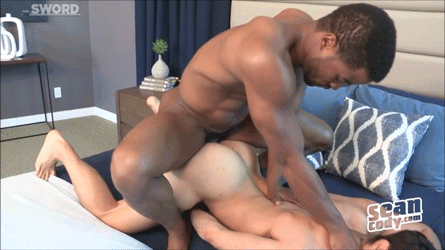 Doggie on the bed is next. Gideon does a good job serving up his ass but again, the small amount of pole in hole footage is pretty anemic. Landon pulls out and straddles Gideon. "I want you to cum on my face," sounds rather creepy coming from Gideon. Landon obliges, however, and ices Gideon's beard as Gideon strokes out his second, and hopefully last load on Sean Cody.
Prior to this, we had one, two, yes three strong scenes in a row from Sean Cody. Hopefully, we'll be back on track Saturday. Watch this blog.
[Watch "Landon & Gideon: Bareback" at Sean Cody]


Gideon, clearly not my favorite flavor. What about you?