Michael & Jacob Stax are 26-year-old twins with nearly identical big dicks. Will they ever go as far as the Peters Twins? Or the Mangiatti's? We do know this: we haven't seen the last of them.
Active Duty is many things to many people. Starting today, they are likely to be known here as the home of the latest pair to bare the flesh and shoot their wads: Michael and Jacob, the Stax twins.
Active Duty describes them as, "pretty wholesome nice young men" who are "lean, clean, and full of cum." By the time we're done today, only "lean" still applies.
If you can look up from their cocks, look for the one with the tat on his pecs to tell them apart. Michael is the one with the ink. And they have this stoking in sync thing down pat.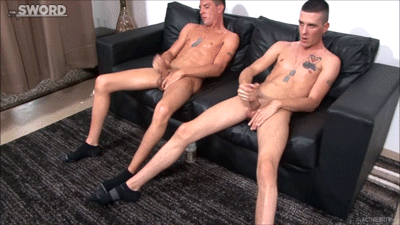 We also know they have had three-ways in the past. And as they reveal at the end, there is one in our future: they will be back to tag-team Ryan Jordan who we saw celebrating the 4th of July with Quentin Gainz and Princeton Price. More fireworks? Watch this blog, but first, watch them stroke.
[Watch Michael & Jacob Stax and their twin towers at Active Duty]

How will the Stax twins measure up to the twins that have cum before them? Let's talk a look at the latter while we look forward to evidence of the former.
Of course, who could forget Fabrizio and Fernando, the Mangiatti twins.

Or the way Liam and Luca, the Rosso Twins, tag teamed Landon Conrad in "Twin Heat"?

[Watch
the Russo Twins in "Twin Heat"
]

And remember David & Matthew Studding? That horny pair that mixed it up alone, together, with the girls and with the boys?

[Visit
the Studding Twins Theater
]

But for many, the story of gay porn twincest begins and ends with Milo and Elijah.


The infamous Peters Twins from BelAmi, who did onto each other — and did it raw.

It was right after their eight man orgy their contract with BelAmi expired. As studio owner George Duroy remarked, "Their contract expired, we still have several unreleased scenes with them…. I am not in habit to renew contracts with models who breach them." Ouch!

Fortunately, there's plenty to remember them by
[Watch the Peters Twins at BelAmi] [Explore the Peters Twins Theater]


Did I leave your favorite out? Who is at the top of your list when it comes to the gay porn family family feud?